goodbyes are hard
how do you say goodbye when you know you'll never see someone again?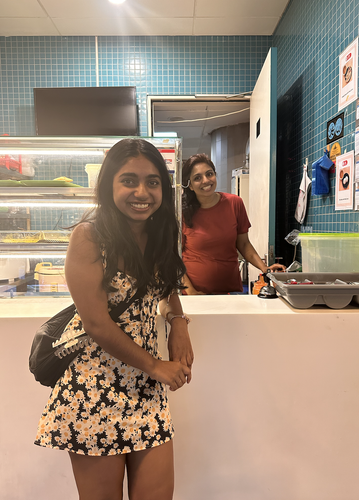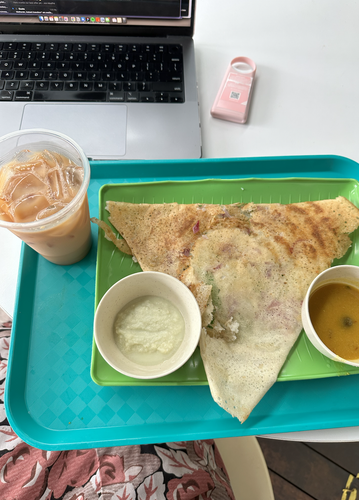 the past 4 months I was living in Singapore, and it was the fastest 4 months of my life I've ever experienced. I didn't realize how hard it would be to say goodbye, especially to people I knew I probably would never see again.
I wanted to share a special story of someone who unexpectedly impacted me the most - a stranger, I saw for almost every single day for a few minutes. The cook from the Indian stall in our cafeteria. No week was ever the same, but I always knew I would start my morning with onion dosas and a cup of iced milk tea whenever I could. Dosas reminded me of the food my mom would always make back home. The woman at the stall knew my order by heart - every time I walked up to the stall, she smiled and asked "onion dosa?" like it even was a question. She already knew the answer.
On the day I left, she didn't even realize it was my last day. We both said we felt this weird feeling of sadness because we never really knew when we'd see each other again. She'll never see the girl that ordered onion dosa every day. The girl who always brought in exact change because she knew they rarely had change in the mornings.
Even if I did come back to Singapore - which won't be for at least a few years - there are very slim odds that she'd still be working at the same canteen again. I was just a person that she saw every day for a period of 4 months, and then never again.
Goodbyes before were never this difficult. To the other friends in my life, even when I said goodbye, it was so easy to say - catch you in New York, Waterloo, Toronto, or San Francisco - and the world felt so ever small. But now after experiencing living over 14,000 km away from the place I called home, I've learned that the world is even bigger than I thought it was. There are over 7 billion people in the world, and we cross paths with one of these 7 billion strangers every single day. The kind cleaning staff on your dorm room floor. The barista that makes your favourite coffee. The girl from Cambodia who sat with you on the street while you played with her puppies. The stranger you walked up to playing the piano and sang a song with.
I'm not sure what the real takeaway is, but what I do understand is that time is so short, and I didn't realize how much these small interactions with strangers impacted me.
I want to be remembered, and I want to be kind to these strangers I'll never see again. Not because I have anything to gain, but because I want them to experience the same feeling of happiness I get from my memories of them.
---
if this resonates, please consider sharing it with a friend and subscribe to my newsletter below to get updates on when my next post drops 💖